Local Lehi Community Comes Together for "Halloween Do Over" for Special Needs Teen Who Was Shunned on Halloween Night
Home » Blog » Utah's Best Weekend Events, Halloween's Hottest Trends, Little Ghost & Ghouls Corner , Halloween Headlines
November 6, 2017 By Cait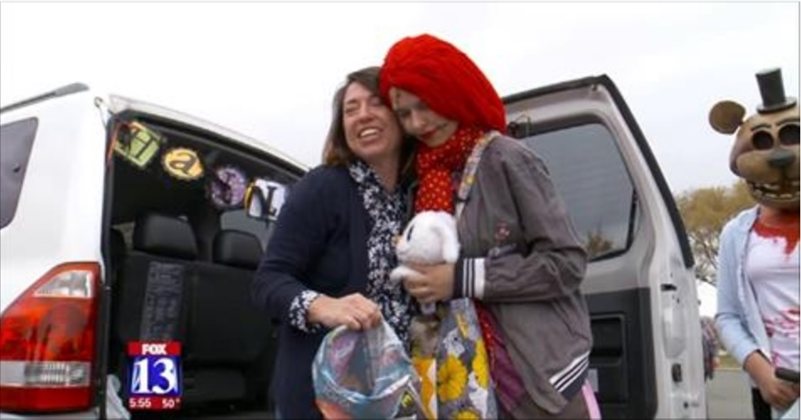 Katina Burnett celebrating her Halloween Do-Over with the Community.
Photo by:
Fox 13 News, via Facebook.
A special needs teen in Lehi, Utah got a special treat this year - a "Halloween Redo", after her sister posted to social media about neighbors shunning the teen for trick or treating, according to Fox 13 Salt Lake City. Katina Burnett, a seventeen year old with autism had numerous households shut the door in her face when she went trick or treating, and even had some people tell her she was too old to be out trick or treating.
While the girl had initially been thrilled to go out on Halloween dressed up as Sally from The Nightmare Before Christmas, however according to her parents and siblings, the night ended in tears. In a statement given to Fox 13 SLC, Katina's father, Myron Burnett, said "You know they go out, knock on a few doors and they get the comments, 'Oh you're too old and close the door in their face?"
Well, one of Katina's sisters decided that this wasn't okay, and wouldn't end here, and she posted about the experience on social media, and almost instantaneously, the post went viral. One local resident, who had never before met the Burnett Family, Heather Chadwick, was so touched by the teen's story that she just knew she had to reach out, and help in some way.
She had the idea of setting up a "Halloween Redo", and began posting on local Facebook community groups, trying to get folks to hand out candy and leave up their Halloween decorations this past Saturday, so that Katina could experience Halloween - the right way. She also suggested doing a Trunk or Treat event in the local Junior High's Parking Lot, where even more cars turned up than she had anticipated.
The family was truly touched by all of her efforts, and Myron seemed particularly touched by how many people showed up for the Trunk or Treat event that Ms. Chadwick had organized, and how many people from across the country have reached out to support his daughter - "So many people, from all around the country really, have been sending us packages of candy."
The event was a success, and Katina thanked everyone by giving them a hug. According to Ms. Chadwick, the Trunk or Treat was such a hit that the local Junior High will be hosting one for special needs students next year as well.
[Source: Fox 13 News SLC]
Did You Participate in the Halloween Redo for Katina Burnett? Let Us Know Your Story in the Comments Below!